Featured Vendor
Puzzles & More
Sue and Steve Haberl founded Puzzles & More in 2002 and joined the Calgary Farmers' Market in 2006. They are a family-oriented business with a focus on family-friendly fun and educational games. Find jigsaw puzzles, card games, and unique gifts for the puzzler in your life.
Meet Our Vendors
The Calgary Farmers' Market is home to over 75 incredible local vendors. We invite you to get to know them, and discover more about the products they make, bake, and grow in Alberta.
Feature Food Hall Vendor
Sips at the Market
Sips at the Market is happy to pour you a cold local beer, expertly selected wines, and spirits by the glass or on tap for enjoyment in the Food Hall. They have a wide selection of locally made beverages ready for you to enjoy—many of which are products of other Calgary Farmers' Market vendors, so you can sample a drink and then take a bottle home with you! Partner vendors include Eau Claire Distillery, Field Stone Fruit Wines, Fallentimber Meadery, and Troubled Monk.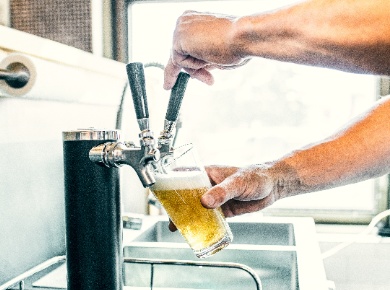 Market Meals
At the Food Hall, you'll find everything from nutritious meals to light snacks, beverages, and sweet treats. Learn more about the vendor restaurants at the Market.
Events
Calgary Farmers' Market events celebrate food, culture, cooking, farming, ranching, local artists, and more. There are fun, events to look forward to year-round.