Better
Better Juice Bar launched in early 2015. Cold-pressed juices and smoothies made from scratch daily, with fresh fruits and vegetables. They invest their time in carefully selecting and formulating delicious blends so there's always something new to discover – including sparkly juices! Recently, Better has grown to add handmade, mouth-watering, real fruit popsicles to their offerings.
what's available?
Cold-pressed juices and smoothies made with fresh ingredients. Juices range from healthy blends like Green Queen and Beet It to simple fruit juices like grapefruit or orange. Refreshing lemonades include Spicy Ginger, Berry, and Lavender. Local fruit and vegetables are used whenever possible. In the summer, cool down with fresh fruit popsicles made with real fruit and berries.
Real Fruit Popsicles
Smoothies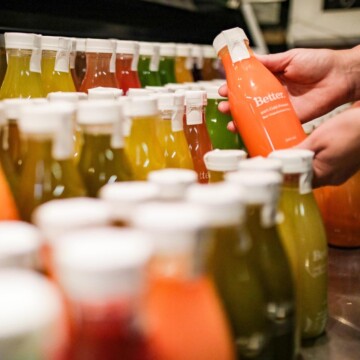 Cold-Pressed Juice
you gotta try this.
The Popeye cold press juice is Better's most popular juice, made with spinach, cucumber, apple, pear, and lemon.